The CaliMar® Goblin, for Residential In-Ground Pools, is everything you want in a robotic pool cleaner at an extremely affordable price. The unit's light weight makes it extremely easy to remove from the pool. The CaliMar® Goblin features dual cleaning modes - 1 mode for conventional 3-hour cleaning and a second mode for Fast Track 1-hour cleaning (Floors Only). Now complete with a 60' Swivel Cord to eliminate cable tangling and kinking.
For Residential In-Ground pools.
Vacuums and scrubs floors, walls, waterline, and steps
60' Power Cord with Swivel – eliminates cable tangling and kinking
Intelligent navigation - does not require hitting walls to change direction
Escape Technology - will not get trapped on main drains or other pool obstructions
Zero-Radius Turning - two independent drive motors allow for tank-like steering for better pool coverage in less time
Quick –Drain System – empties in seconds to easily remove from the pool
Returns clean, filtered water back into the pool
Dual Port Design – offset intake ports allow for a wide cleaning path in any direction
Brush-to-Port Cleaning- rotating brushes force debris directly into the two large intake ports
Gel-Pro brushes - gentle enough for vinyl and fiberglass pools and rugged enough for concrete pools
Large filter bag
4-year limited warranty
The CaliMar® Goblin, with its high performance/low energy engineering uses very little power and costs just pennies to operate! Its independent pump and filter system reduces pool chemical consumption and increases water conservation by reducing the need to backwash your pool filter.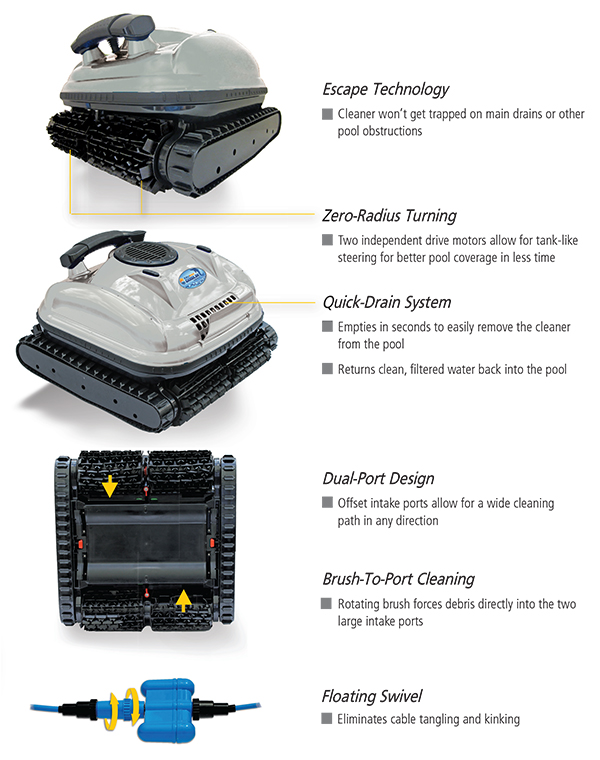 Item weight: 13lbs. Item dimensions: 17" L 11" W 17" H.