COVID-19 Notice: Pool Supply Unlimited is open for business. Our customer service team is available, and we are shipping orders. Click here for more information.
Pool Supply Unlimited offers you a selection of diving boards that will meet any commercial applications. Whether using these diving boards or diving stands for a swim park or a health club, our commercial diving boards are of the best quality. They are designed with heavy use in mind so your diving board investment can go on for years of use without any hassles.
Resources

Diving Board Selection Guide
To ensure maximum safety and performance of your diving equipment, here are some things to consider when selecting a diving board for your pool.
Board Flexibility/Reaction
Diving boards come in a wide range of shapes, styles and with varying degrees of flex or spring. Boards and stands are defined in three distinct ways, according to their level of flex:
•Jump Boards – a flexible board on a base that utilizes a spring mechanism.
•Diving Boards – a flexible board on a rigid base.
•Jump Platform – a rigid board on a rigid base.
The type of combination you may have on your pool is limited by the size of pool's diving envelope.
Pool Type
The pool industry association has authored a safety standard that outlines which types of board and stand combinations (listed above) are appropriate for pools, based on the size of the pool's diving envelope. Residential pools can be defined as a Type 0 through a Type V. Public pools can be defined up through a Type IX.A pool type is determined by a series of depth measurements at different spots in the pool. You can learn more about how to type your pool through SR Smith's online Certified Professional Installer Course at www.srsmithcpi.com We also have a set of professional tools that can aid you in measuring and typing your pool.
New, Replacement, or Retrofit?
While all of our diving boards can be installed on new pools, provided they meet safety standards, we also have a couple of options for replacement diving boards.
• To retrofit a diving board to an existing pool, you can drill holes in the deck and use one of our epoxy kits for jig installation.
• To replace an existing diving board with something new, take a look at SR Smith's jig identification guide on page 45. A wide variety of our boards and stands utilize the same jig, so upgrading your stand and board combination is simple.
Asthetics
All of our diving boards are available in beautiful designer colors to match your backyard décor, even colors to complement your pool slide or powder coated or SealedSteel rails. Environmental corrosives can affect the way your pool looks too. S.R.Smith uses only stainless steel hardware and also has a variety of stands with minimal exposed metal that will perform well in challenging pool environments.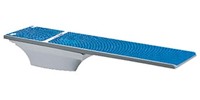 Does your pool have a diving board on it that's older than five years? Wondering if it's still safe to jump on? Here's a guide from S.R.Smith with five diving board inspection tips to see if your diving board is ready for pool season!