NOTICE
: The Texas weather emergency in February, in addition to the ongoing demand increase for pool products from the Covid pandemic, have caused industry-wide shortages on many products that most vendors expect to last late into 2021/early 2022. We're allowing items to be purchased so that customers who choose to wait will have their order shipped when product arrives. Many times there are long shipping delays on the few products we do have in stock. Please contact us to ask about availability.
Live Chat
and email will get the quickest response.
Electric Pool & Spa Heaters
Electric pool heaters have allowed pool owners to enjoy year-round swimming in areas where natural gas or propane is not an option. Coates has been the name to trust for quality and reliability in water heating equipment since the 1940s. We also highly recommend Raypak 5.5kW & 11kW units for small pools & spas, especially for salt water applications.

Looking for Heat Pumps ? Click here.
Electric pool heaters allow pool owners to enjoy year-round swimming in areas where natural gas or propane is not an option. On our website, you can easily shop for electric pool heaters from top manufactures, such as Coates and Raypak. In addition to the electric pool heaters, shoppers can also take their pick from natural gas heaters, propane and low NOx heaters. For the spa owners, they too can increase the usage of their spa with our range of spa heaters.

Coates has been a renowned manufacturer of hot water products for over 50 years. Coates electric pool heaters are energy efficient, are available from 1.5kW to 57kW, and most can be ordered in single or three phase models. For large commercial applications, Coates offers electric pool heaters up to 300kW. The cool to the touch exterior of the Coates electric pool heater allows these innovative units to provide safe and worry-free use. The Coates electric pool heater has internal Incoloy heating elements and although it offers the best in energy efficiency, the electric pool heaters are powerful enough to increase the temperature of a spa or pool. If you are uncertain as to which electric pool heaters to select we urge you to call our experienced staff at 888-836 6025, or an email can be sent with any questions regarding the selection of electric pool heaters.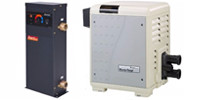 The search for the perfect heater for your pool or spa is sometimes riddled with weird acronyms, strange sizings, and unfamiliar terms. This guide, along with our sizing guide will hopefully provide all the information needed to find the heater perfectly suited for your pool.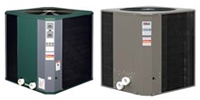 Considering a heat source for your pool but not sure what's best for you? Our guide may be the perfect primer for you to weigh the benefits of heat pumps, gas heaters and solar options and make an informed decision to extend your swim season.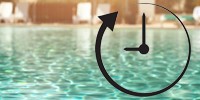 That is a question many people want to know, it is both simple and complex as there are variables to consider. In this article we'll lay out the simple answer for you and discuss the complexities to consider.