The Glacier Iceburg pool cooler is a perfect solution to uncomfortably warm water for medium-sized residential pools. Glacier swimming pool chillers are designed to solve the problem of hot pool water by taking the heat out of the water, and cycling the cool water back into your pool. Depending on the size and finish of your pool, the cooler can lower its temperature from 10 to 15 degrees Fahrenheit in 12 to 14 hours (note: pool finishes and bottoms that absorb heat more readily, such as quartz or dark tile, can take longer to fully cool). You'll never see it on your utility bill, but you will see it on your friends and family's faces when they're splashing around in your cool and refreshing pool in the peak of summer!
Iceburg Features:
Recommended for pools from 20,000-30,000 gallons
Efficiently cools 30 gallons per minute
Saltwater pool friendly
Limits evaporation for savings on water and chemicals
Easy installation and maintenance
Runs with your pool pump and automated systems
Optional temperature controls for manual pool systems
Energy efficient – Electric powered (low amperage output) 110/115V 8.5 Amps 60/50Hertz
Single inlet/outlet lines (1.5" diameter)
Specifications:
Cooler
Model
Pool Size:
(1000
gallons)
Dimmensions
(inches)
Pipe
Connections
(inches)
Nominal
Water Flow
(pgm)
Pad Size
(feet)
Weight
(lbs.)
Height
Width
Inlet
Outlet
GPC25
<20K
52
34
1.5
1.5
30
2x2
125
GPC210
<30K
54
42
1.5
1.5
45
3x3
150
GPC215
<45K
60
46
2
2
45
3x3
200
GPC25/GPC210 Electrical technical Specifications: 110/115V 1-PH 60/50H 8.5 Amps
GPC215 Electrical technical Specifications: 110/115V 1-PH 60/50H 12 Amps
Glacier Pool Coolers are the best solution to uncomfortably warm pool water because:
Glacier Pool Coolers is a fan based system, not a heat pump/heat exchange unit. The Glacier system does not need Freon or gas.
It is easily incorporated into your existing pool plumbing system and automated control systems OR can be installed seamlessly on a new build.
Glacier is the original fan based swimming pool cooling system, trusted by pool owners around the world, and is the only patented system of its kind.
It costs pennies a day to operate. Residential models require an average of less than 10 amps; you'll never see it on your electric bill.
Not only will your pool be refreshing during those hot summer months but your pool water chemistry will be easier to maintain.
A 10 degree drop in water temperature (95' to 85') can often see a reduction of 20-25% in chemical consumption.
It doesn't matter if you're in the high desert or the Deep South, Glacier Pool Coolers can cool any pool anywhere!
Like all Glacier coolers, the Iceburg works by taking water from the pool's filter and chilling it with the airflow created by the cooler unit's fan. The chilled water is pumped back into the pool through the cooler's returns.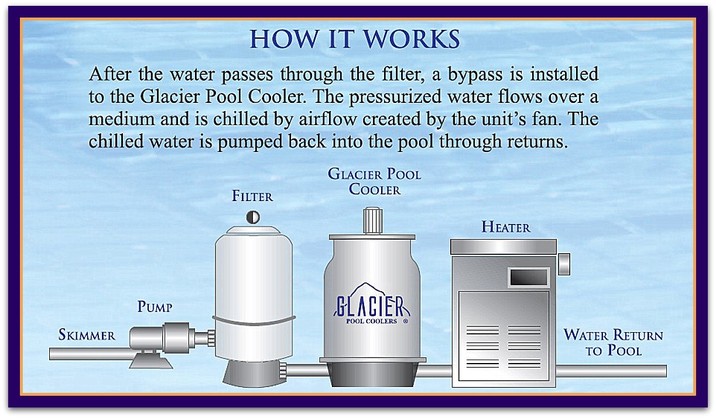 The Glacier system was developed in Houston, TX where the summers can average 90% humidity. All technical specs are based on the research done in that climate. The Glacier product line is UL tested and certified for residential and commercial use.
Glacier Pool Coolers are a solution that is affordable, efficient, easy to install, and inexpensive to operate. It's like an air conditioner for your pool!
Enjoy your cool & refreshing pool all summer long with the original, trusted, patented swimming pool cooling system!