NOTICE
: The Texas weather emergency in February, in addition to the ongoing demand increase for pool products from the Covid pandemic, have caused industry-wide shortages on many products that most vendors expect to last late into 2021/early 2022. We're allowing items to be purchased so that customers who choose to wait will have their order shipped when product arrives. Many times there are long shipping delays on the few products we do have in stock. Please contact us to ask about availability.
Live Chat
and email will get the quickest response.
Hayward Pool & Spa Heaters
Are you ready to graduate to a higher degree of comfort and control? Choose a Hayward heater for their energy efficiency, durability and ease of operation.
For over 80-years, Hayward has been helping pool owners enjoy the pleasures of pool ownership by manufacturing cutting edge, technologically advanced pool equipment worldwide.

Keeping your pool properly heated can increase its value and lengthen your swimming season. If you're searching for superior comfort and control, you can find it in Hayward's collection of top-notch, highly efficient pool heaters for in-ground and above ground pools. Install a world-class in-ground pool heater for the ultimate in luxury.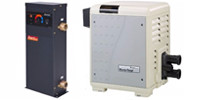 The search for the perfect heater for your pool or spa is sometimes riddled with weird acronyms, strange sizings, and unfamiliar terms. This guide, along with our sizing guide will hopefully provide all the information needed to find the heater perfectly suited for your pool.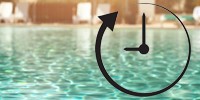 That is a question many people want to know, it is both simple and complex as there are variables to consider. In this article we'll lay out the simple answer for you and discuss the complexities to consider.