Large format tiles are ideal for raised walls, and deck areas.

Borrowing influences from natures palette of colors and textures, we offer a wide variety of Textured tiles bring a natural beauty of their own. From subtle desert shades, to lush, colorful hues, these tiles transform your pool/spa area to an natural oasis.

The shade of tiles or stone may vary within any given color which is an inherent quality that enhances their beauty. All pool tiles are high fired porcelain or glass and colors can change with each die-lot.
Resources

NPT Tile Brochure
All the tiles we sell are made from high fired porcelain, which is the only type of tile that we recommended for pools, spas or water features. The difference between porcelain and other tiles is really one of quality rather than type. The clay used for porcelain tiles is simply purer and more refined, making them tougher, denser and more impervious to water. With a water absorption rate of less than 0.5%, porcelain tiles are less liable to stain and are usually more frost-resistant.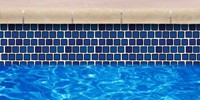 A question that arises often is, how to clean and keep tile looking good. The two problems pool owners typically face are oil and grime and calcium deposits along the waterline. In this article we will cover the best process and products to use when tackling either of these issues.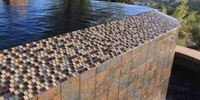 The right pool tile can give your backyard the perfect finishing touch just as it adds safety for your family and friends. Read up here on what's available so you'll have an idea what to expect - and how your options have expanded - before you buy.
OPEN 6 DAYS A WEEK
Phone Support (Central Time)
6am - 6pm Monday - Saturday