Dive into Energyrite Quality
Lochinvar's time-proven commitment to advanced water heating technology is reflected in every detail and every component of EnergyRite. It's a standard no other pool and spa heater can match.
Lochinvar Is the most innovative manufacturer of water heaters and heating boilers, serving the extraordinary demands of commercial buildings throughout the world. The engineering excellence and commitment to understanding customer needs has produced EnergyRite®, the industry's most advanced pool and spa heater, for homeowners who want the best of everything.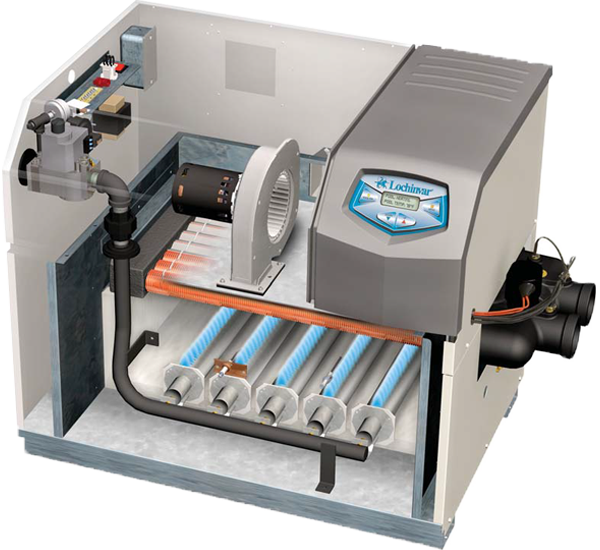 Hot performance, Cool for the Enviroment
EnergyRite heats up fast, saves money and helps conserve the natural resources with Low-NOx emissions that meet or exceed the most stringent "green" standards, anywhere in the country!
Service-Friendly Control System
Fingertip setup, temperature adjustment and troubleshooting
Separate control capability for pool and spa
2-line, 16-character display in words instead of confusing codes
Equipped for third-party remote operation
Heat Exchanger
Also available with Cupro-Nickel tubes
Advanced heat exchanger design with no O-rings, virtually eliminates leaks and failures
Polymer headers, ideal for pool and spa heaters
Optional Equipment
ASME Construction
ASME Pressure Relief Valve
Stack Frame
Indoor Vent Kits
Flow Switch