NOTICE
: The Texas weather emergency in February in addition to the ongoing demand increase for pool products from the Covid pandemic have caused industry-wide shortages with products. We're allowing items to be purchased so that customers who choose to wait will have their order shipped when product arrives. Many times there are long shipping delays on the few products we do have in stock. Please contact us to ask about availability.
Live Chat
and email are the best. Please keep trying back via chat and email as we can't answer them as fast as they come in but we are here, so keep trying! We're currently 13+ days behind on returning email (email is the best way to get a reply when all chat associates are busy).
Lochinvar Pool and Spa Heaters
Lochinvar EnergyRite is engineered to be the best! This heater has a service friendly control system with commercial grade heat exchanger. Also features fastest heat time with venting options.
Lochinvar® products now deliver up to 99% thermal efficiency, which means 99 cents out of every fuel dollar spent is transferred into the water as usable energy, resulting in lower energy costs.

Lochinvar® carries commercial as well as residential. In 1993, Lochinvar introduced the Copper-Fin², the first horizontal chassis, copper-finned tube pool heater to operate with fan-assisted combustion. Now, the Copper-fin² is even better. Along with high thermal efficiency, gasketless heat exchangers and multiple venting options it has added Lochinvar's exclusive SMART SYSTEM™ control.

Five EnergyRite residential models offer power to guarantee speedheating for any size pool or spa...from 150,000 Btu/hr to an industry-maximum 400,000 Btu/hr. And Lochinvar's engineering delivers the highest thermal efficiency in its class. It's a combination that provides the industry's fastest heatup time, and uses less energy so homeowners save money every time they heat their pool or spa!

EnergyRite heats up fast, saves money and helps conserve our natural resources with Low-NOx emissions that meet or exceed the most stringent "green" standards, anywhere in the country!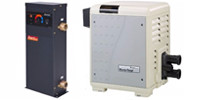 The search for the perfect heater for your pool or spa is sometimes riddled with weird acronyms, strange sizings, and unfamiliar terms. This guide, along with our sizing guide will hopefully provide all the information needed to find the heater perfectly suited for your pool.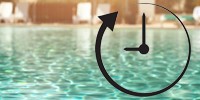 That is a question many people want to know, it is both simple and complex as there are variables to consider. In this article we'll lay out the simple answer for you and discuss the complexities to consider.