CuLator PowerPak 1.0, Ultra PowerPak 4.0 & SpaPak are great for maintaining a stain-free and metal-free pool & spa. Each removes and eliminates total dissolved stain-causing metals. The goal is to have 0.0 dissolved metals in your pool or spa water to prevent staining and pool or spa water from turning green or brown. The CuLator will last longer depending on your metal level.
CuLator eliminates stain-causing metals like copper, iron, manganese and lead from pool or spa water. PowerPak 1.0 is great for maintaining a metal-free and stain-free pool. Each PowerPak removes and eliminates 1.0 ppm total dissolved stain-causing metals from 20,000 gallons. The goal is to have 0.0 dissolved metals in your pool water. For best results keep a PowerPak 1.0 in your skimmer and change monthly to help prevent metal stains. The CuLator 1.0 lasts longer than a month depending on the metal level and the contents change color depending on the metal removed. CuLator Ultra 4.0 is perfect for pools which have a lot of metals, larger pools, pools on well water, pools which have had a copper coil heater "blow out" and commercial pools. The CuLator Ultra 4.0 may also be used as a seasonal treatment for general maintenance and during pool stain treatment. CuLator Ultra 4.0 has four times the power of a CuLator 1.0. CuLator SpaPak works in your fresh or salt water spa to eliminate metals and prevent stains for up to 6 months. Either leave the SpaPak in your reservoir continually, or use it when you fill your spa (let it eliminate for a day or two then rinse, dry and reuse). Your choice! Each SpaPak comes with a CuLator GatorEgg protector.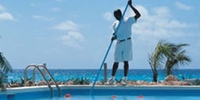 Having a regular pool maintenance schedule is key to keep your pool clean in-season. Check out our simple guide to pool maintenance to get started.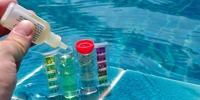 Take the fear out of pool chemicals & balance your pool water like a pro with Pool Supply Unlimited's guide to pool water chemistry. Learn more today!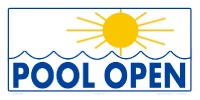 Opening a pool for the season takes a little more elbow grease than simply ripping off the cover and jumping in. We'll walk you through how to open a pool after winter so you can get in, cool down, and kick off summer in crystal clear water just begging to be enjoyed.

OPEN 6 DAYS A WEEK
Phone Support (Central Time)
6am - 6pm Monday - Saturday