NOTICE
: The Texas weather emergency in February has caused nationwide stock-outs on most products that will last months in many cases. We're allowing items to be purchased so that customers who choose to wait will have their order shipped when product arrives, given that these back-orders are industry wide. There are long shipping delays on the few products we do have in stock. Please contact us to ask about availability.
Live Chat
is the quickest response. Please keep trying back via chat, email and phones as we can't answer them as fast as they come in but we are here, so keep trying!
Mosaics - Porcelain Mosaic Tiles
Vibrant colors and exquisite detail set these frost proof ceramic or porcelain tile mosaic apart from the rest. Frost proof swimming pool mosaics are unparalleled in quality, ease of installation and affordability.


Pool Supply Unlimited has a variety of high quality frost proof ceramic and porcelain tile mosaics and high performance Aqua Decals for swimming pools. The possibilities are endless in creating one-of-a-kind mosaic creations, including custom logos and graphics.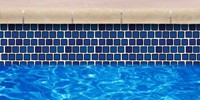 A question that arises often is, how to clean and keep tile looking good. The two problems pool owners typically face are oil and grime and calcium deposits along the waterline. In this article we will cover the best process and products to use when tackling either of these issues.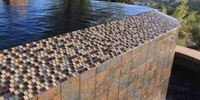 The right pool tile can give your backyard the perfect finishing touch just as it adds safety for your family and friends. Read up here on what's available so you'll have an idea what to expect - and how your options have expanded - before you buy.