Commercial Pool Natural Pool Water Treatment
The PZ2-1 Series can be used on commercial spas all the way up to the largest Olympic size commercial pool. Because of the numerous lamps, it is many times more reliable than comparable corona discharge systems.
System is extra quiet with high output compressors to produce maximum ozone production. Installation is fast and easy by simple saddle connection to the return line. They feature our patented bypass for optimal ozone absorption and extended system life.
The PZ2-1 Systems inject ozone into the water under almost any hydraulic condition including pools with in-floor cleaners. The systems are designed for large residential pools, commercial pools and spas. Have a hardware warranty of two full years on residential and commercial systems.
Features
Prozone Patented Corona Hybrid Arc Tube harnesses the high ozone concentrations of Corona Discharge generators while maintaining the simplicity and reliability of VUV technology
Universal solid state power supply
Commercial grade compressor with muffling
Easily retrofittable to existing installations
Optional Prozone Patented Dynamic Venturi Injector Bypass System allows maximum ozone/water mixing for superior water quality. The bypass also means a quick retrofit installation or replacement for all existing ozone generators
Direct injection option available
Low cost, low maintenance operation
Warranty – 2 years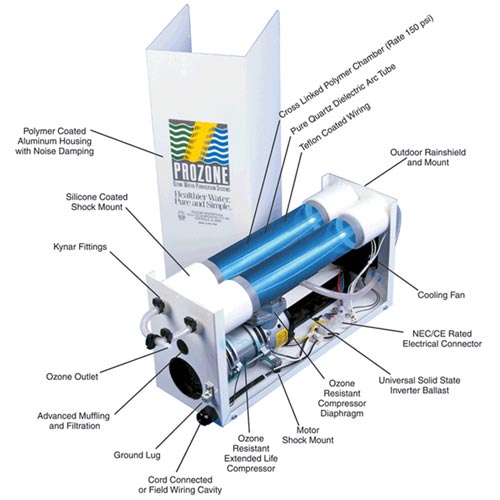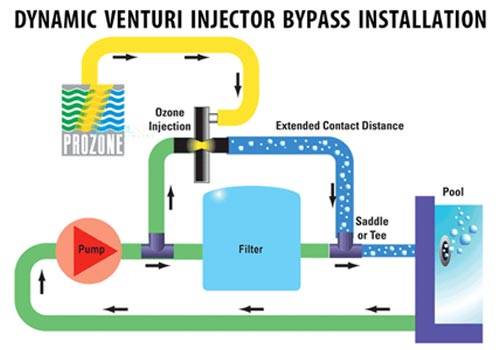 Specifications
Prozone Patented Corona Hybrid Arc Tubes
Prozone Universal Solid State Ballast
(900 VAC to 270 VAC, 50/60 hz)
Electrical: .4 amps max.
3 Wire Pigtail
Universal Composite Saddle Clamps (1-1/2 or 2-in)
Operating Temperature: -25 F. to + 140 F
Size: 27" x 12" x 9"
Ozone Sizing
| | Chlorine | Bromine |
| --- | --- | --- |
| For Pool | 25,000 gallons | 12,500 gallons |
| For Spa | 1,000 gallons | 500 gallons |