NOTICE
: The Texas weather emergency in February has caused nationwide stock-outs on most products that will last months in many cases. We're allowing items to be purchased so that customers who choose to wait will have their order shipped when product arrives, given that these back-orders are industry wide. There are long shipping delays on the few products we do have in stock. Please contact us to ask about availability.
Live Chat
is the quickest response. Please keep trying back via chat, email and phones as we can't answer them as fast as they come in but we are here, so keep trying!
Ozone is a natural purifier created in nature by the combination of oxygen in air and the ultraviolet rays of the sun or by the corona discharge during a lightning storm. Ozone has a clean, fresh scent noticed after a rainstorm. Ozone is the alternative water purifier to traditional chemicals such as chlorine and bromine. The Ozonators will keep your water clean and sparkling clear, by destroying bacteria, viruses, mold, and mildew. The ozonators do all of this and is still gentle on your skin and eyes.
Ozone technology for swimming pools has been in regular use for over 50 years in places like France, Germany and other European nations as they realize the consequences of Chlorine gas.

Ozone has also been in use in Europe since the 1890's for drinking water purification. Some large cities in the United States such as Los Angeles and Milwaukee now boast the best drinking water in America since they began using Ozone as a purification method. It is difficult to find bottled water that has does not use Ozone as a purification method.

Ozone, although a disinfectant (sanitizer) and oxidizer, it is normally referred to as the primary oxidizer and alternative sanitizer when referring to its use in swimming pools in the United States.

Ozone destroys viruses and bacteria such as e-coli and legionaries, and others.

Ozone is over two thousand times faster acting than Chlorine at oxidizing and destroying bather load in a swimming pool. This drastically reduces chlorine requirements.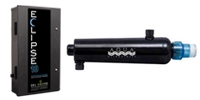 Both Ozone and UV systems are more natural, environmentally friendly alternatives to chemicals and their resulting bi-products. They are effective, safe and reliable methods of water sanitation. But what is the difference between Ozone and UV? And how do you know which one to choose when shopping for an alternative sanitizer?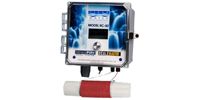 Problem algae spots eliminated, lower chlorine use and sparkling clear pools with less work are all great reasons to invest in a mineral sanitizer today!