PZ7 - Residential Pool Natural Pool Water Treatment
The PZ7 provides a universal ozone system for pools up to 40,000 gals (152,000 liters). Housed in an anodized aluminum case, the system features two hybrid arc tubes to generate ozone, a universal power supply (operates on 120 and 240 VAC), and a universal bypass installation kit (good for 1-1/2 in and 2 in returns).
Prozone has combined the PZ7 product line to one universal model. This patented system has two corona hybrid arc tubes which provide a combination of very ultraviolet and corona discharge ozone generation technologies for pools up to 144 m3 (40,000 gal).
Prozone's patented Corona Hybrid Ozone systems provide higher concentration ozone generation without the corrosive and toxic by-products of traditional corona discharge machines. The result is a new technology that produces a reliable, high output — and takes advantage of the inherent simplicity, ruggedness and pure ozone production of the very ultraviolet system.
The universal power supply allows the unit to operate automatically on 110/60, 220/60, or 230/50.
Install kit includes Prozone's Dynamic Venturi Injector, ozone check valve and saddle clamps
Features
Universal model – stock one unit for all residential in-ground pools to 40,000 gal (152,000 l)
Universal Power supply
Easily retrofittable to existing installations
Labeled with vibrant color pad printing
Retail boxing available
Prozone Patented Corona Hybrid Arc Tube harnesses the high ozone concentrations of Corona Discharge generators while maintaining the simplicity and reliability of VUV technology
Optional Prozone Patented Dynamic Venturi Injector Bypass System allows maximum ozone/water mixing for superior water quality. The bypass also means a quick retrofit installation or replacement for all existing ozone generators.
Rugged, functional housing: heavy extruded aluminum case for durability; translucent gasketing glows when system is on
Low cost, low maintenance operation
Warranty – 2 years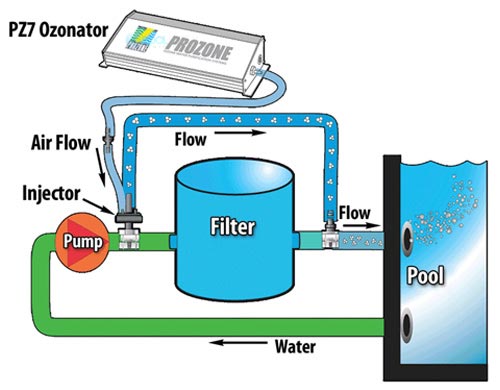 New Universal Saddle Clamps

Prozone has developed and patented a new integrated saddle clamp that makes installation of the PZ7 easier than ever. The new connection is adjustable so that it can accommodate 1 1/2 -inch or 2-inch lines (or their metric equivalent).

New Housing

The new extruded anodized aluminum housing is labeled with vibrant color pad printing. The new layout enhances the look and ruggedness of the unit.

Serviceability


The units require no maintenance and can be serviced easily when required.
Specifications
2 Prozone Patented Corona Hybrid Arc Tubes
Prozone Universal Solid State Ballast
(90 VAC to 270 VAC, 50/60 hz)
Electrical: .8 amps
Dual Nema Plug or 3 Wire Pigtail
Universal Composite Saddle Clamp (1½ or 2 in.)
Operating Temperature: -25º F. to +140º F.
Shipping Weight: 10 lbs.
Size: 16 3/4" X 7" X 4"