The CHEMTROL® 255 is the only easy-to-use controller offering Free Chlorine and pH control for pools, spas, cooling towers, industrial water treatment, etc.

The Chemtrol CH255 Digital Controller introduces the new sensor for Free Chlorine control in automated water treatment.


A microprocessor-based digital controller, it is designed to maintain both free chlorine PPM and water pH in high-end residential pools, small commercial pools and spas and light industrial applications.

Unlike other chlorine sensors on the market, these sensors are easy to installl and maintain, very precise and so reliable that they are covered by a full 2-year warranty.



For better water management results, it is recommended to use ORP control of chlorine oxidizing activity and PPM monitoring of free chlorine. Alternatively, PPM control can be used for control of the sanitizer and ORP control for an oxidizing agent, such as ozone.

SANITIZER AND pH CONTROL MADE EASY

Designed for affordability, simplicity of installation, ease of use and long-term reliability, it includes features normally not found on this type of controller, such as:
Adjustable setpoints,
Adjustable high and low alarms,
Adjustable overfeed safety timers and
Adjustable proportional feed control.
FEATURES
Easy to install
Simple to use
All Control Functions on Front Panel
Separate Adjustable Setpoints
Separate Adjustable Alarms
Acid/Base Selector
Proportional Feed with Adjustable Bandwidth
Separate Adjustable Overfeed Safety Timers
Waterproof Cabinet with Clear Window Cover
5-year Electronics Warranty
Toll-Free Technical Support
EASY TO INSTALL

Unlike conventional amperometric or colorimetric sensors, the PPM sensor is easy to install and operate. It does not require a special pressure flow cell and/or expensive and expendable chemical reagents. And best of all, it's maintenance free.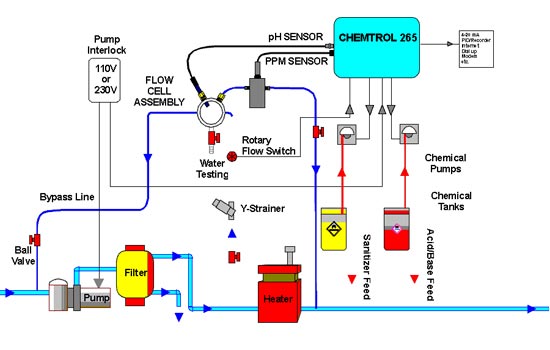 Brand:
SANTA BARBARA CONTROLS