The CHEMTROL® 250 is a microprocessor-based digital controller designed to maintain both sanitizer ORP (oxidation-reduction potential or Redox) and water pH in high-end residential pools, small commercial pools and spas and light industrial applications.
Designed for affordability, simplicity of installation, ease of use and long-term reliability, it includes features normally not found on this type of controller, such as:
Adjustable setpoints,
Adjustable high and low alarms,
Adjustable overfeed safety timers and
Adjustable proportional feed control.
FEATURES
Easy to install
Simple to use
All Control Functions on Front Panel
Separate Adjustable Setpoints
Separate Adjustable Alarms
Acid/Base Selector
Proportional Feed with Adjustable Bandwidth
Separate Adjustable Overfeed Safety Timers
Waterproof Cabinet with Clear Window Cover
5-year Electronics Warranty
Toll-Free Technical Support
A SOUND INVESTMENT

The CHEMTROL® 250 controller is based on 20+ years of experience in pool and spa automation with over 25,000 installations worldwide. Featuring a 5-year electronics warranty, it actually pays for itself in 1 to 2 years through cost savings in operating and maintenance expenses.

Savings continue to accrue from the more efficient use of chemicals, avoiding over- and underfeeding, and from lower labor costs for water testing and repairs of damaged equipment. In particular, commercial operators save on specialty chemicals, customer complaints and health department shutdowns.
EASY TO INSTALL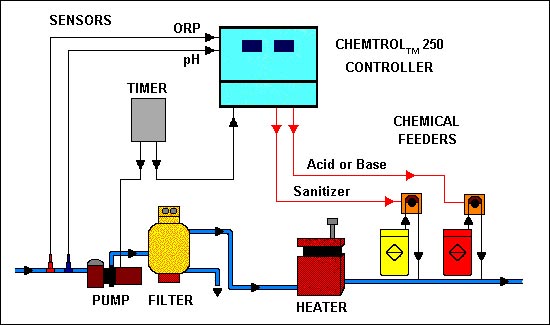 Installation of the CHEMTROL 250 is as easy as 1-2-3.
CONTROLLER - Connect the controller to the 110 or 230V output of the Timer in parallel to the recirculation pump. This will prevent accidental feeding of chemicals when the pump is not running. Make sure to follow the electrical code.

SENSORS - Install the ORP and pH sensors on the recirculation line or on the optional bypass line. The two sensors can be mounted directly on the main recirculation line with 2" PVC tees, as shown on the schematic. For recirculation lines over 2" in diameter lines, the sensors should be mounted on a 1/2" bypass line.

CHEMICAL FEEDERS - Connect the chemical feeders to the 110 or 230V controller outputs, according to the manufacturer's instructions, making sure to inject the chemicals downstream of the sensors. For a bromine or chlorine erosion feeder, install a corrosion-resistant solenoid valve on the intake line of the feeder. The controller is compatible with most ozonators and electrolytic generators.