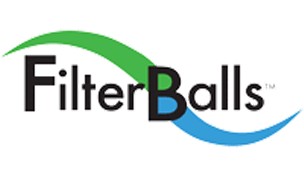 FilterBalls
The Newest Breakthrough in Filtration Media

FilterBalls are a lightweight high performance filtration media, engineered to replace sand in your residential pool, industrial, or commercial "sand type" filter systems. No more aggravation and mess, just a one cubic foot bag of FilterBalls media replaces and outperforms 100 pounds of sand. Most residential filters require less than 5 pounds of FilterBalls! What's more? You can use less power to run your filter, saving big money on your electric bill.

FilterBalls are made in the USA, are fully recyclable, and certified to NSF/ANSI 50 for use in commercial and public pools and the NSF/ANSI certifications 42, 61 and 372 for drinking water health and safety.
FilterBalls
4069-71 Joseph Drive
Waukegan IL 60087
Phone: (224) 637-8900
Filterballs.com