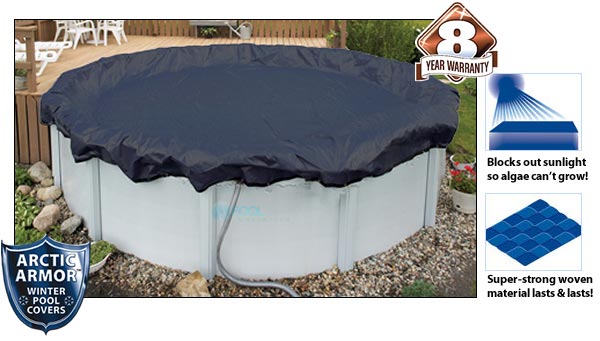 Arctic Armor's Bronze winter cover is an economical way to protect your above ground pool through the off-season. Its dark blue polyethylene strands provide a rugged barrier to the elements, making the Bronze rate far superior to other options in the market despite its modest cost.

The cover's usefulness extends to ways many people don't even realize. While most pool owners' main motivation for using a winter cover is to keep debris from getting into the pool, another major issue for the water itself during the off-season is algae growth. Still water (stagnant because your pump is turned off) in direct sunlight is the perfect breeding ground for algae. But all Arctic Armor covers are UV-protected, so they keep sunlight from penetrating to the water, which prevents algae from developing. The seams are also heat-sealed, ensuring a consistent cover surface that holds up over time and a pool just as sparkling and clear as when you close it for the season. This saves both time and trouble, since cleanup is simplified and your pool water requires much less preparation once the swim season arrives.

The key to Arctic Armor's winter covers staying firmly attached to above ground pools is a vinyl-coated cable that encircles the cover through a series of built-in metal grommets. No matter the weather or surrounding environment, the pool stays clean and healthy throughout the off-season.

The cover's four feet of fabric overlap (standard for all Arctic Armor above ground models) on each side ensures an excellent deck connection and greatly reduces stress on the fabric, another innovation that makes Arctic Armor the industry standard in winter covers.

The Bronze model comes with an eight-year warranty. There are 12-year (Silver) and 15-year (Gold) models also available. Each product line has a wealth of size options (plenty of choices for both the round and oval varieties, all listed to the right under Other Purchase Options), meaning we truly have you covered no matter the size or shape of your above ground pool.