Features:
Brass anchors recess flush with deck when not in use.
Spring loaded stainless steel springs hold cover firmly in place.
Strong triple nylon stitching on all webbing and seams.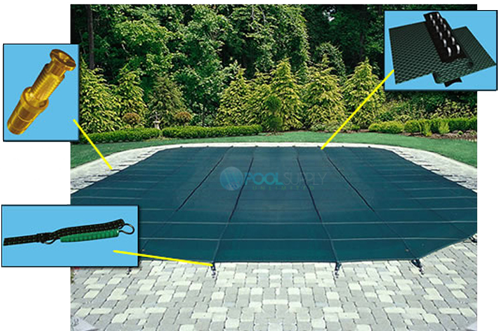 Custom Covers Are Our Specialty!
If you don't see your size listed and you need a custom cover, download our online
Measuring Form
. Complete the form and email or fax back for a
FREE
quote.
Guards Your Children & Pets as it Protects Your Pool!
Durable, long-lasting Arctic Armor covers are strong enough to support your entire family, yet light enough to put on or remove from your pool in five minutes or less. Arctic Armor covers are made of super-strong two-ply mesh with a break strength of over 4,000 lbs. During use, the cover is held in place with brass anchors. These anchors recess flush with the deck when the cover is not in use. Rest assured that your children and pets are protected from accidental drowning. In addition to its safety features, Arctic Armor affords excellent winter protection for your pool. Its fine, lightweight mesh allows rain to seep through but screens out leaves and debris. Spring clean up is a snap because no water collects on the cover. The cover comes complete with brass anchors, stainless-steel springs, installation tool and storage bag.
Special ordering is available for this product. Using the customer cover Measuring and Ordering Form you can measure your pool for a perfect fit. Your also able to choose the color to match your backyard decor. Click on the Red Icon for easy directions on measuring your pools dimensions.
A top priority in owning a pool is keeping the children safe!
Today there are many choices in safety products for your swimming pool. One option is owning a safety cover. Safety covers provide homeowners with a sense of security. The options available with safety covers are either mesh made of strong 2-ply or solid vinyl. Depending on the environment and climate in your area these are choices that can be made accordingly.
Owning a safety cover is one option to help with safety around a pool environment. These covers help as a safety barrier keeping children, pets, and other wildlife safe. Drowning is the second leading cause of death for children 1-14 years old, according to the Centers for Disease Control and Prevention. An extensive study performed by the Consumer Product Safety Commission (CPSC) found that "75 percent of the children involved in swimming pool submersion or drowning accidents were between 1 and 3 years old."
Want to know the advantages of owning a mesh safety cover compared to a solid safety cover?
Mesh safety covers are much lighter than a solid which makes it a lot easier to maneuver. Water drains through a mesh cover which can prevent puddles that form around the edge of the pool. When it rains or snows the mesh can disburse the water quickly. These covers are available for any size and shape of pool
Having a solid safety cover is good if you have a hard winter months. It can hold heavy snow and ice. With this you would need to purchase a pump or a draining system. To prevent puddling accumulation you can purchase a automatic cover or a built in mesh drain panel. Solid covers can also prevent sun exposure reducing the growth of algae. This type of cover is considerably heavier than the weight of a mesh cover.
Both mesh and solid covers can be cleaned and stored easily. To clean simply remove any visible solid debris from the top and hose off. Fold the cover only when it is completely dry and store for the next season.
Adding as many safety steps as possible is the best way to assure a safe and fun experience in your residential swimming pool or spa. As parents - build your own safety practices by going over rules and following water safety precautions.