PureWhite LED Spa Light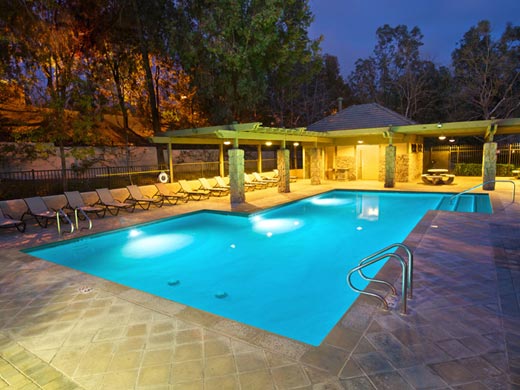 PureWhite LED Pool and Spa Light Fixtures offer contemporary styling, superior rugged construction and reduce energy consumption by 90%. These LED Light Fixtures are rated for up to 50,000 hours of use, which means they also significantly reduce maintenance costs. Plus, PureWhite LED light fixtures come with an industry leading warranty for greater peace of mind.
PureWhite LED Light Fixtures provide an LED lighting alternative to inefficient incandescents for installations requiring a full fixture. They significantly reduce energy consumption and maintenance costs. Plus, all PureWhite LED Light Fixtures feature a superior rugged construction that is unmatched in the industry.
PureWhite Advantages:
$33 a year to operate
Uses less energy – up to 90%*
Lasts up to 50,000 hours – 20x longer life**
Enhances spa water appearance – looks clearer and cleaner
Enhances dark finish spas - commercial and residential
Installs easily – compact fixture depth allows bottom catch visibility from pool deck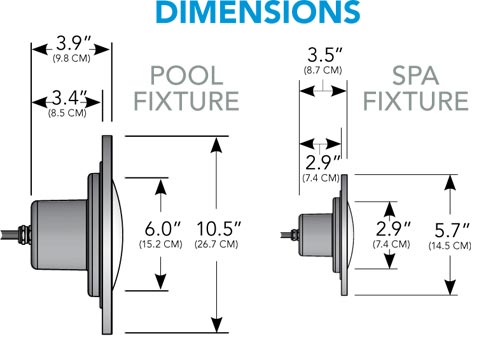 *HI Series compared to incandescent lamps
**Compared to incandescent lamps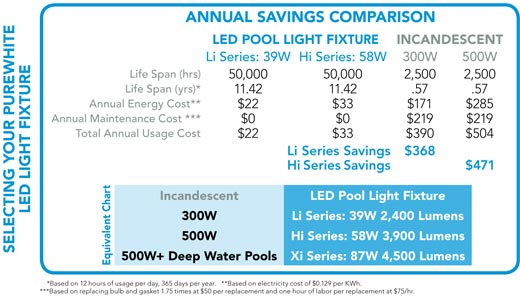 PureWhite LED Spa Light Fixture Niche Compatibility:
Pentair®: 78244200, 78244300, 78243200, 78243300, 79206600
Jandy®: PLNICSM, SSNICSM1R, SSNICLRG1S, SSNICSM1S
Hayward® : SP0606C, SP0610U