J&J's PureWhite LED light fixtures offer unmatched brightness and energy efficiency for pool and spa lighting. These polished marine grade stainless steel light fixtures not only look great in the pool and spa, but they are rugged and reliable too, making them the perfect choice for everything from heavy use commercial applications to backyard family pools.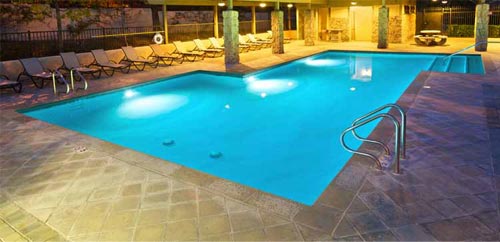 PureWhite LED fixtures utilize high performance, cool white LED's improving the appearance of pool water by producing brilliant, natural looking light. Whether it's new construction, remodel or just upgrading the old incandescent light fixture, PureWhite LED fixtures have you covered. They are compatible to most existing Pentair®, Hayward® and Jandy® incandescent light niches and are ETL listed for safety and electrical code compliance. PureWhite LED light fixtures will reduce energy use by up to 90% over incandescent lighting and there are 4 light output models to choose from.
The Xi series produces 600W of equivalent light output and uses just 87W.
The Hi series produces 500W of equivalent light output and uses just 58W.
The Li series produces 300W of equivalent light output and uses just 39W.
The spa series produces 100W of equivalent light output and uses just 13W.
Product Specifications:
Voltage: 120
Watts: 300
Cord Length: 300'
Faceplate: Polished SwimQuip Version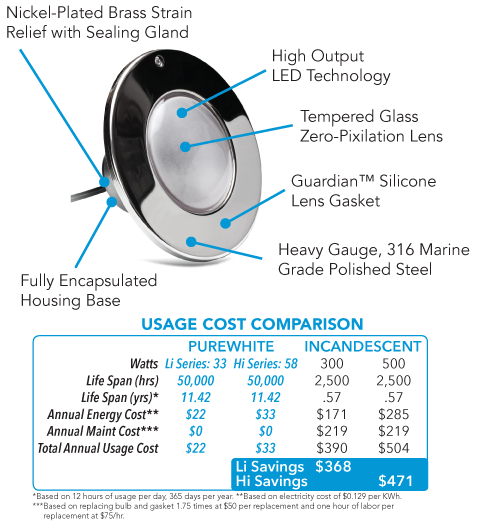 PureWhite LED Light Fixtures are rated for up to 50,000 hours of use, eliminating long term maintenance costs.
All PureWhite LED Light Fixtures come with an industry leading 3-year limited warranty.