Jandy LXi Pool Heater | 250,000 BTU Natural Gas | Electronic Ignition | Digital Controls | Polymer Heads | LXi250N
This item has been discontinued.
| | | | |
| --- | --- | --- | --- |
| | | | |
Jandy LXi heaters exceed environmental standards for Low NOx emissions. Lower emissions mean you can enjoy your pool with confidence, knowing your pool equipment is designed with the environment in mind. The Jandy Pro Series LXi comes automation-ready for easy integration with Jandy Pro Series AquaLink® controls and other control systems. Built-in freeze protection and exclusive "Maintain Temperature" function are also available.
LXi " The Next Generation in Heating Technology Integrating the most advanced features in every aspect " from superior hydraulic design, lightest and strongest composite material construction to a technologically innovative control system, the LXi brings the future of heating comfort to your pool.
Features:
Highest efficiency rating in the industry to keep your pool heating costs low
High efficiency C-F in heat exchanger is designed to lower operating costs and provide greater saving
The feature rich control panel has a user-friendly backlit display and a simplified menu for ease of operation
Low NOx, fan-assisted combustion and Hot Surface Ignition systems provide maximum performance in all weather conditions
Built-in one-touch automation makes pool-to-spa switching simple
Enables easy connection to Zodiac controls, and other pool/spa automation systems and automatic valve systems
Smallest equipment pad footprint
Communicates with the AquaLink® RS family of controls
Fan assisted low NOx combustion
Lightweight polymer headers
Available in 250K and 400K BTU sizes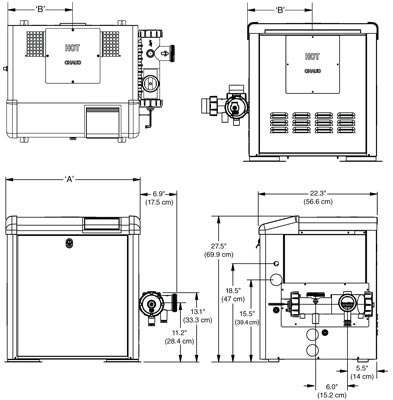 Frequently Asked Questions:
Question: Are heating appliances compatible with salt water chlorination?
Answer:
For the last 20 years, Zodiac has been using a patented technology associating polyamides and titanium, both of which are totally free from the effects of corrosion. Today over 120,000 appliances have been installed without any corrosion defects. If a salt water chlorination method is being used, it may be important to install a check valve between the heater outlet and the salt water chlorinator, to prevent high concentrations of chlorinated water from back siphoning into the heater.
Question: Must my pool be covered (cover, rolling shutter...) or sheltered if it is to be heated?
Answer: No, it is perfectly possible to heat an "open air" pool without a cover or a shelter. The power and fuel requirements is similar to heating a house with the windows open! This is why we recommend the use of an insulating cover to limit heat loss to the open air when the pool is being heated. A covered or sheltered pool will reduce the heater power and fuel costs.
Brand:
Zodiac Pool Systems
Jandy LXi Pool Heater | 250,000 BTU Natural Gas | Electronic Ignition | Digital Controls | Polymer Heads | LXi250N
This item has been discontinued.