Zodiac Pool Systems (Zodiac, Polaris, Jandy, Nature II, Levelor)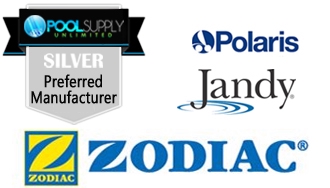 Zodiac Pool Systems, Inc.
2620 Commerce Way
Vista, CA 92081
Phone: (800) 822-7933
www.zodiacpoolsystems.com
Pool Supply Unlimited PIP #1969543
Zodiac is a leading global manufacturer of differentiated pool and spa products. Whether through best-in-class products, or through industry-leading dealer loyalty program, Zodiac is the provider of choice for millions of people worldwide. With expansive product lines, Zodiac can deliver the most technologically-advanced, energy-efficient, durable and reliable products available which include leading brands: Polaris®, Jandy®, Nature2®, and Baracuda®.


Zodiac Pool Systems (Zodiac, Polaris, Jandy, Nature II, Levelor) Subcategories
Search for Zodiac Pool Systems (Zodiac, Polaris, Jandy, Nature II, Levelor) Products
Search for Zodiac Pool Systems (Zodiac, Polaris, Jandy, Nature II, Levelor) Parts