NOTICE
: The Texas weather emergency in February, in addition to the ongoing demand increase for pool products from the Covid pandemic, have caused industry-wide shortages on many products that most vendors expect to last late into 2021/early 2022. We're allowing items to be purchased so that customers who choose to wait will have their order shipped when product arrives. Many times there are long shipping delays on the few products we do have in stock. Please contact us to ask about availability.
Live Chat
and email will get the quickest response.
Have a perfectly clean pool for just pennies per day with a pool cleaner from Zodiac / Polaris.

For pressure side cleaners we recommend the 280 & 3900 Sport models. Looking for a great robotic cleaner? Take a look at the brand new 9400 Sport Series.
Zodiac pool systems offers several great cleaners under the brands Zodiac, Polaris, & Baracuda.

Robotic
Polaris® Sport Series Robotic cleaners redefine the very essence of Polaris in this inspired reimagination of the icon.

Pressure
Leading the industry for nearly 40 years, Polaris is the #1 brand in automatic pressure cleaners. With a full range of pressure cleaners to fit every application of pool design, Polaris offers superior cleaning performance.

Suction
Zodiac is the global leader in suction-side pool cleaning solutions. Pioneer of the revolutionary Baracuda diaphragm technology, the company continues its solid commitment to quality and design ingenuity.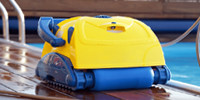 Automatic Pool Cleaners are a great way to clean a swimming pool and reduce long-term maintenance costs. Get the details on the different kinds of Automatic Pool Cleaners, and which one will suit you and your pool's needs.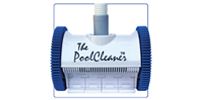 Tiered of your old pool cleaner that gets stuck and just doesn't thoroughly clean your pool? Want something easy to use with very little maintenance? Poolvergnuegen's The Pool Cleaner is the right one for you.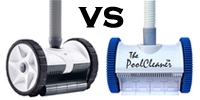 Looking for a new cleaner to get that messy pool under control? We look at two notable suction-side options: Poolvergnuegen's PoolCleaner and the new Kreepy Krauly Warrior, and let you draw your own conclusions.