NOTICE
: The Texas weather emergency in February, in addition to the ongoing demand increase for pool products from the Covid pandemic, have caused industry-wide shortages on many products that most vendors expect to last late into 2021/early 2022. We're allowing items to be purchased so that customers who choose to wait will have their order shipped when product arrives. Many times there are long shipping delays on the few products we do have in stock. Please contact us to ask about availability.
Live Chat
and email are the best. Please keep trying back via chat and email as we can't answer them as fast as they come in but we are here, so keep trying! We're currently 20+ days behind on returning email (email is the best way to get a reply when all chat associates are busy).
Leaf Canisters, Leaf Bags, Cleaner Hose Swivels and more.
Despite what a lot of people think a swimming pool is a lot more than just a container filled with water. Often times it is only when someone becomes the owner of a swimming pool that they begin to understand what owning a swimming pool really entails. Among the things that separate an ordinary swimming pool from a great swimming pool are the swimming pool accessories. They play an important role, and contribute immensely to the degree of pleasure derived from your swimming pool experience.

One of the most basic of swimming pool accessories you should have, as an owner of a swimming pool, is a swimming pool cleaner. The cost of hiring a swimming pool cleaning service may be prohibitive and if the pool is a small one it may not warrant the expense for so minor a task. There are basically three types of pool cleaners to choose from, suction cleaners, pressure cleaners, and robotic cleaners. Depending on the swimming pool size each cleaner carries its own set of advantages, including speed, ease of operation, efficiency and being economical.

At all times where swimming activities take place the issue of safety should be a concern. With this in mind handrails and ladders are considered vital swimming pool accessories and come in handy for entering and exiting swimming pools. These particular swimming pool accessories are now being constructed from stainless steel and thus eliminate occurrences of corrosion and rust, guaranteeing many years of use.

Another of the swimming pool accessories that has to do with safety where swimming pools are concerned is lighting. It is not only in the daylight that the owners of a swimming pool will want to use it and after work and home chores are done a night swim may be in order. In the interest of safety it is recommended that the path to the swimming pool, the area where the swimming pool is situated, and inside the swimming pool itself, be outfitted with sufficient lighting. This will go a far way in preventing any unfortunate accidents.

Not everywhere has the good fortune of having warm weather all year round and even in places that do the temperature of the water in the swimming pool may be too low for swimming in comfort at times. There is a solution for that though and this comes in the form of heaters. Understandably, swimming pool owners tend to gravitate towards electric and gas powered swimming pool heaters as they are cost effective and get the job done. These swimming pool accessories are also available in solar powered models but they are far more expensive.

On the list of basic swimming pool accessories one should also add filters. To keep the water clean it is pumped through a filter, which will remove contaminants. These filters can be one of three types, cartridge filters, diatomaceous earth (DE) filters, or sand filters. It is interesting to note that while the DE filters are believed to be the most effective the title of most popular goes to the cartridge filter.

While by no means exhaustive the swimming pool accessories mentioned above are considered to be among the must haves for all swimming pool owners. Whether or not you or anyone else enjoys swimming in your swimming pool will depend a lot on them.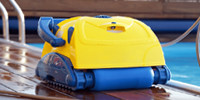 Automatic Pool Cleaners are a great way to clean a swimming pool and reduce long-term maintenance costs. Get the details on the different kinds of Automatic Pool Cleaners, and which one will suit you and your pool's needs.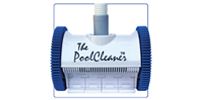 Tiered of your old pool cleaner that gets stuck and just doesn't thoroughly clean your pool? Want something easy to use with very little maintenance? Poolvergnuegen's The Pool Cleaner is the right one for you.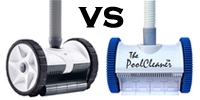 Looking for a new cleaner to get that messy pool under control? We look at two notable suction-side options: Poolvergnuegen's PoolCleaner and the new Kreepy Krauly Warrior, and let you draw your own conclusions.