NOTICE
: The Texas weather emergency in February, in addition to the ongoing demand increase for pool products from the Covid pandemic, have caused industry-wide shortages on many products that most vendors expect to last late into 2021/early 2022. We're allowing items to be purchased so that customers who choose to wait will have their order shipped when product arrives. Many times there are long shipping delays on the few products we do have in stock. Please contact us to ask about availability.
Live Chat
and email are the best. Please keep trying back via chat and email as we can't answer them as fast as they come in but we are here, so keep trying! We're currently 20+ days behind on returning email (email is the best way to get a reply when all chat associates are busy).
Relax, play, laugh… the cleaning is automatic

Our Kreepy Krauly® brand cleaners offer the best combination of cleaning performance, simplicity, convenience, and long-term reliability. We offer the broadest line of pressure side, suction side and robotic cleaners in the world so no matter your cleaning challenge or budget, there's always one right for your pool.

Suction Side Pool Cleaners
Suction side cleaners attach to one of the suction ports in your pool - the plumbing that pulls water out of the pool to be filtered. Usually, this port is the skimmer, or your pool may have a separate vacuum port especially for a pool cleaner. With the hose attached and the filter pump running, suction is created on the underside of the cleaner. The cleaner moves around the pool while vacuuming dirt and debris through the hose and sending it to the pump strainer basket and filter...where it belongs. Dirt and debris are sucked up by the cleaner and then through the hose, past the suction port, through the pipe, and is trapped in the filter pump strainer basket.

Pressure Side Pool Cleaners
Pressure side cleaners attach to the return (pressure side) of your circulation system. This is the side of the plumbing that returns clean, filtered water to your pool. Pressure side pool cleaners use the power of the water pressure to pick up dirt and debris and collect it in an attached bag. Many also have their own hydraulic power plant inside for additional power.

Robotic Pool Cleaners
Robotic cleaners are powered by low-voltage electricity, rather than your pool pump or a booster pump. Since your pump runs less, your energy costs are reduced. Plus, their built-in filter further reduces use of your pool's primary filtration system lowering energy costs even more, extending the life of both your pump and filter, and increasing the amount of time between filter cleanings. Robotic cleaners are also convenient—you just plug it in and place it in your pool. Some even have remote controls so you can steer the unit from a lounge chair for easy spot cleaning!

Aboveground Pool Cleaners
Enjoy the same cleaning performance, simplicity, convenience, and long-term reliability as inground pool owners with our aboveground automatic pools cleaners.

Eco Select Brand
The powerful Kreepy Krauly® Legend® II pressure-side automatic pool cleaner does not require a booster pump, providing highly energy-efficient cleaning performance.
All Kreepy Krauly® Prowler® robotic cleaners offer fast, eco-friendly cleaning performance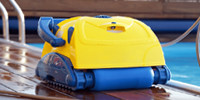 Automatic Pool Cleaners are a great way to clean a swimming pool and reduce long-term maintenance costs. Get the details on the different kinds of Automatic Pool Cleaners, and which one will suit you and your pool's needs.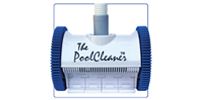 Tiered of your old pool cleaner that gets stuck and just doesn't thoroughly clean your pool? Want something easy to use with very little maintenance? Poolvergnuegen's The Pool Cleaner is the right one for you.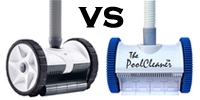 Looking for a new cleaner to get that messy pool under control? We look at two notable suction-side options: Poolvergnuegen's PoolCleaner and the new Kreepy Krauly Warrior, and let you draw your own conclusions.