NOTICE
: The pool & spa industry continues to face industry-wide shortages on many products that most vendors expect to last late into 2022. We're allowing items to be purchased so that customers who choose to wait will have their order shipped when product is available. Most vendors are not providing any ETA on when items will be available. WE WILL EMAIL YOU RIGHT AWAY IF YOUR ITEM IS BACKORDERED.
Everything you may need to make sure your safety cover is properly installed. All hardware and accessories to ensure safety.



$11.66




$10.92
Arctic Armor Gold has such Long-Lasting Performance! Double stainless steel springs combined with the added strength of Super Mesh™ fabric means this cover can withstand more ice and snow, out-lasting other mesh safety covers.

We offer Arctic Armor Safety Covers which are strong enough to support your entire family, yet light enough to put on or remove for your pool in five minutes or less. These covers are durable and long-lasting. Arctic Armor covers are made of super-strong two-ply mesh with a break strength of over 4,000 lbs. During use, the cover is held in place with brass anchors. These anchors recess flush with the deck when the cover is not in use. Rest assured that your children and pets are protected from accidental drowning. In addition to its safety features, Arctic Armor affords excellent winter protection for your pool. Its fine, lightweight mesh allows rain to seep through but screens out leaves and debris. Spring clean up is a snap because no water collects on the cover. The cover comes complete with brass anchors, stainless-steel springs, installation tool and storage bag.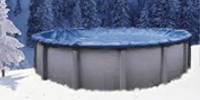 Usually, winter is not the time of year that most people want to think about their swimming pools but, in reality it is one of the most important times to pay attention to your investment. Properly winterizing your swimming pool will avoid unnecessary problems and costly repairs come springtime.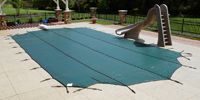 Unless you are one of the lucky few that get to enjoy year round warm weather and pool time, chances are you'll need to buy a cover for your pool. When you go shopping for a pool cover, here are the major things you'll want to consider.