Water Features - Overview

LED Large Laminar The Light StreamTM Large Laminar with internal, color changing, synchronizable, L.E.D. lighting, that is completely self contained. Lend a dramatic splash to a backyard with Color Light Streams Large Laminars

LED Lighted Bubbler Kit An easy, fun, and unique way to light a sun shelf, swim-out, or beach entry using color L.E.D. technology. There are 6 vibrant colors and 2 color change modes. You set it the way you like it! It will enhance the beauty of your pool with a splash of color.

LED Rain Fall These stunning color changing, synchronized, L.E.D. lighted Rain Waterfalls enhance the beauty of any backyard.

Star Floor Kit An easy way of creating fiber optic points of light in floors, swim outs and steps for the gunite pool builder

Fiber Optic Waterfall Light Bar Allows you to add color to waterfalls and rainfalls.

Fiber Optic Laminar Large Are perfect for night time viewing either individually or in multiple arrangements

StarGlo Light Fixtures Are flexible and are great for lighting up rock waterfalls and landscape features. Using StarGlo fixtures (or kits)
you can light areas of cascading water in the waterfall.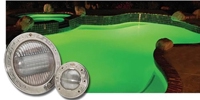 There is a wide variety of color LED lights to choose from and you've likely driven yourself mad wondering which one would work best for your application. Luckily the answer is not as difficult as you think. Read more for an easy explanation of the LED colors lights available to you.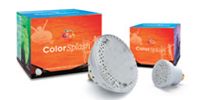 Looking for new or replacement lights for you pool or spa? Learn about the benefits of vibrant, energy efficient, environmentally friendly LED pool and spa lighting options.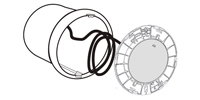 With summer fast approaching, now's the time to get your backyard in shape for neighborhood parties. If you're ready to update your pool lighting, check out our easy 12 step guide to changing pool and spa light bulbs.
OPEN 6 DAYS A WEEK
Phone Support (Central Time)
6am - 6pm Monday - Saturday