NOTICE
: The pool & spa industry continues to face industry-wide shortages on many products that most vendors expect to last late into 2022. We're allowing items to be purchased so that customers who choose to wait will have their order shipped when product is available. Most vendors are not providing any ETA on when items will be available. WE WILL EMAIL YOU RIGHT AWAY IF YOUR ITEM IS BACKORDERED.
Bull Award Winning Grill Islands are designed, engineered and master crafted with the finest materials available. All of the grills are CSA Gas Certified. Bull Outdoor Products Inc. pioneered the concept of outdoor barbecue islands, recognizing the need for backyard barbecue enthusiasts to bring their grilling talents to match those of professional chefs! All grills have the option of propane or natural gas burners.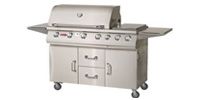 Before we know it the weather will start warming up and the grilling bug will start itching. Read up now on a few things to consider when buying a grill or smoker and you'll be a prepared buyer when spring rolls around.