COVID-19 Notice
: Pool Supply Unlimited is open for business. We are experiencing extremely high call / email volume and responses are delayed. Our
FAQ
page has answers to many common questions.
Dancook Grills & Fire Bowls
Whether you're planning a BBQ on the terrace, a gourmet outing on the beach or a simple meal in the garden, These grills make it even sweeter to cook out. Find the grill that fits you...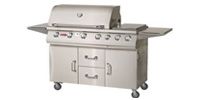 Before we know it the weather will start warming up and the grilling bug will start itching. Read up now on a few things to consider when buying a grill or smoker and you'll be a prepared buyer when spring rolls around.