When your landscape lighting needs dictate the lowest maintenance, highest performance components, specify FX Luminaire® uplites. These rugged and innovative luminaires are made of the very finest aerospace alloys to prevent premature product failure caused by corrosion. All cast components are hand polished before powdercoat to ensure a smooth lustrous finish. Every FX Luminaire® diecast component is made in-house using the latest in computer assisted mold process control.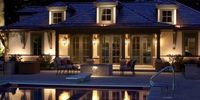 Landscape lighting is among the necessary accessories when swimming pools are concerned. They effectively contribute to a safer swimming environment. Plus they enhance the appearance of the area around your pool and patio.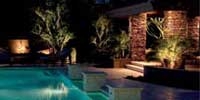 Looking for a way to show off to your pool setup? A top-notch lighting arrangement could be the perfect way to make your backyard the envy of the whole neighborhood.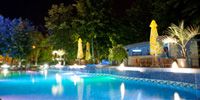 Swimming pool lights are absolutely necessary at night to illuminate dangerous edges and the walls inside the swimming area. Learn the best ways to use pool and landscape lighting to enhance the safety and ambiance of your pool and patio.