Like every SABER grill, this full-featured model has their advanced infrared cooking system, quality construction, premium materials and unparalleled performance. Its space-conscious design is perfect for smaller outdoor areas and cooking for four to six people.
SABER infrared grills use a proprietary IR cooking system that's so advanced you can actually taste the difference. It keeps meat naturally juicy and tender, even when cooked medium or well done. Mistakes like overcooking or charring a piece of meat will be a thing of the past!
Zonal Cooking
SABER's zonal cooking, you can chose the number of cooking zones you use at any one time depending on how many you are serving and the meal you are cooking. No need to overheat your grill and waste gas. Use only what you need.
You can't do it with most infrared systems because they have ceramic emitters that burn very hot and completely open fireboxes that allow heat to spread across the entire cooking surface. Convection systems circulate hot also have this same challenge due to their open firebox under the cooking surface.
With their proprietary infrared cooking system, each burner is enclosed in a separate compartment so that the temperature of one doesn't affect the other(s). SABER solves other grilling problems too. With traditional ceramic IR emitters, radiant heat is produced as short wave lengths, which tend to burn and char food more easily. These grills also flare up and require higher maintenance because of food drippings and debris dropping directly onto the burner. SABER's advanced IR generates longer wave lengths for cooking more evenly with fewer temperature fluctuations. And maintenance is greatly reduced because grease vaporizes instead of clogging the emitter.
True zonal cooking is one more way SABER combines performance, innovation and affordability like no one else.
SABER's Infrared Cooking System
You don't have to be a chef to cook like one—even the first time you fire up a SABER grill. You may have heard about infrared (IR) grills. Maybe you even have one. But not one like this.
SABER infrared grills use a proprietary IR cooking system that's so advanced you can actually taste the difference. It keeps meat naturally juicy and tender, even when cooked medium or well done. . Mistakes like overcooking or charring a piece of meat will be a thing of the past!
Infrared vs. Traditional Convective Cooking Systems
Both systems start with gas-powered burners. A traditional convection gas grill uses circulating hot air, like an oven, to cook. Hot air circulates around the food, which dries out the natural moisture in steaks and chicken and shrinks hamburgers into hockey pucks. When grease drips through the open grate, it causes flare-ups that can char the meat and create big temperature fluctuations.
An infrared (IR) grill works differently. Most IR grills use expensive ceramic emitters to convert heat from a gas-powered burner into radiant heat. Because of the open grate design, these grills cook with a combination of radiant heat and convective heat. This combination can be problematic for several reasons. Ceramic IR cooking systems are highly effective at searing food because they burn extremely hot. However, it is almost impossible to vary the temperature and burning your meal is a frequent result. Flare-ups are also a common problem due to the open grate and burner design. Due to their open port design, ceramic IR burners clog with grease and food debris. As they become more sensitive to thermal shock and temperature change and can easily crack causing performance issues and costly maintenance.
SABER® Grills Infrared Cooking System — A Better Barbecue™ Every Time!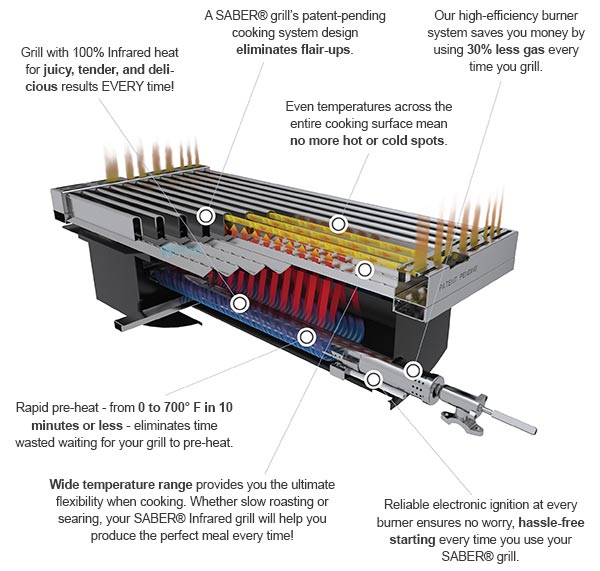 Efficient, Even Heat
SABER grills cook food more quickly with less energy. That's because IR is more efficient at what engineers call "coupling to the food." IR directly heats the meat on the grate, not the spaces in between the meat. In a convective grill, the hot air takes the path of least resistance and flows around and between the food on the grate. So it takes longer to cook, provides uneven heat and consumes more gas. By contrast, SABER delivers high performance with fewer BTUs so you use 30% less gas and need less frequent fill-ups.
A Better Barbecue™... Experience
SABER® Grills are designed and engineered to provide you a new level of cooking performance. There is nothing you can't cook on a SABER® grill!
SABER grills combine Performance, Innovation, and Affordability. They have incorporated features that allow you to relax and enjoy serving delicious food to your family and guests.
All SABER® grills cook with infrared heat locking the natural juices and moisture into your food. Their patented cooking system vents convective air, which dries your food out, away from the cooking surface. Flare-ups are eliminated and foods cook more quickly and efficiently.
SABER® grills heat from 0 to 700F in 10 minutes or less and the patented Infrared Cooking System allows for a wide range of temperatures.
Easier and Faster Assembly: Streamlined assembly steps using a single common fastener and more factory pre-assembly means you will be grilling sooner with a SABER® grill.
Simple and Easy Fuel Conversion: Easily change fuel sources from propane to natural gas, or for built-in grills from natural gas to propane, using the patented EZNG or EZLP conversion kit. (sold separately)
Every SABER® grill has an electronic ignition point at EVERY burner plus a redundant "carry-over" ignition system that ensures a reliable and safe start every time you grill.
Better for the Environment: BTU's have nothing to do with cooking performance, but everything to do with how often you refill your propane tank or the size of your gas bill. You can no cook faster with fewer BTU's, reducing your gas consumption by 30%, which makes it good for both your wallet and the environment.
Standard Features
All 304 stainless steel (commercial kitchen grade), nonmagnetic
Strong, stable, durable construction with welded tubular cart and firebox frames
Shelves bolted to a tube frame provide solid work surfaces
304 stainless steel burners, grate system and emitters
2 cooking zones for just the right amount of cooking space. Use one or two zones.
Saves gas by only heating the space you need for the meal you're cooking.
Front access grease tray for easy cleaning
Simple cleanup: just burn off and brush away food debris
Safe, easy natural gas conversion with SABER's exclusive EZNG technology
Fast assembly with 26 common fasteners
SABER grate cleaning tool included
Special Features
445 total square inches of cooking area (330 primary, 115 secondary)
Enclosed 304 stainless steel cart and heavy duty side shelves
304 stainless steel firebox exterior with seamless welded lid
Two 304 stainless steel tube burners (16,000 total BTUs)
Grate-level temperature gauges allow grilling with the lid up
Push button electronic ignition at each burner for reliable start-up every time
Adjustable 304 stainless steel warming rack with storage and roasting positions
Heavy duty 3-inch locking casters
Specifications
Weight (Pounds) - 160
Main Burner Count - 2
Primary Burner BTU's - 16,000
Side Burner BTU's - NA
Total BTU's - 16,000
Cooking System Type - IR
Primary Cooking Surface (sq. in) - 330
Secondary Cooking Surface (sq. in) - 115
Total Cooking Surface (sq. in) - 445
Primary Cooking Grate Material - SS 304 Stainless steel
Secondary Cooking Grate Material - SS 304 Stainless steel
Gas Convertible - EZ NG Kit required - sold separately
Fuel Source - LP
LP Tank Included - Tank not included
Product Dimensions (inches) - 48.5 L x 25.0 W x 48.4 H
SABER® Grills: Built Stronger to Last Longer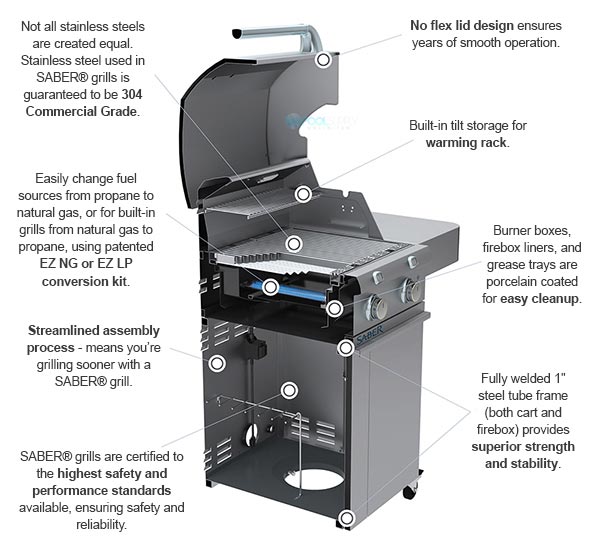 Not all stainless steels are created equal. Stainless steel used in SABER® grills is guaranteed to be 304 Commercial Grade
No flex lid design ensures years of smooth operation
Built-in tilt storage for warming rack
Burner boxes, firebox liners, and grease trays are porcelain coated for easy cleanup
Fully welded 1" steel tube frame (both cart and firebox) provides superior strength and stability
SABER® grills are certified to the highest safety and performance standards available, ensuring safety and reliability