Above Ground Pool Ladders and Steps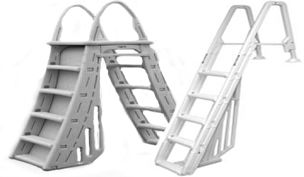 PoolSupplyUnlimited offers pool ladders that are the most affordable, durable and – above all - safest options for getting in and out of your swimming pool
With an above ground pool, no matter what size or height, you should always have a ladder. Steps and ladders make entering your pool much easier, without the risk of damaging the sides or top of your pool. In many cases they are attached to the top ring of your pool, with simple screws. However, if you are new to these pools, then here are some tips to help you pick the right ladder or steps for your needs.

Weight is an important consideration when it comes to an above ground pool steps. Your ladder should be able to hold at least two hundred and fifty pounds, go well over the top of your pool, and have a platform at the top and extend down into itself to make climbing in and out easy. The outer legs should rest firmly on the ground without slipping, and if you ladder extends all the way to the bottom of your pool, it should also have rubber feet. This will not only prevent damage to the pool's bottom, but also prevent slippage.

A few things to note about above ground ladders. One is that you want a ladder that is going to be safe for your children to use. Another is that no matter what, you need to supervise the swimming of smaller children. If possible, when you are done for the day you should always remove the ladder, and put a cover on the pool. Since many ladders have to be assembled before using, be sure to follow all the instructions, and heed any safety warnings on the package.