CCEI's patented Plug-in-Pool underwater electrical outlet works without contacts. There is no wire between the light and the base. The outlet transmits electrical energy by induction. With no wires and not contacts, the product is the safest way to bring power underwater. The Plug-in-Pool sockets uses induction to create an electrical current from an electromagnet. When the lights are removed, the power turns off automatically so you can remove the light and add other underwater accessories. You can replace and winter the light in a very simple and safe way. Available in large and mini light sizes in both monochromatic and multi-color lighting.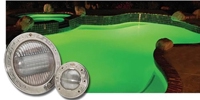 There is a wide variety of color LED lights to choose from and you've likely driven yourself mad wondering which one would work best for your application. Luckily the answer is not as difficult as you think. Read more for an easy explanation of the LED colors lights available to you.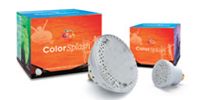 Looking for new or replacement lights for you pool or spa? Learn about the benefits of vibrant, energy efficient, environmentally friendly LED pool and spa lighting options.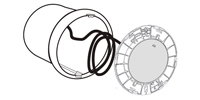 With summer fast approaching, now's the time to get your backyard in shape for neighborhood parties. If you're ready to update your pool lighting, check out our easy 12 step guide to changing pool and spa light bulbs.