Introducing the first single,unblockable suction outlet cover rated at 316 GPM.

Resources

AquaStar Cross Reference Drain Chart
Unfortunately it happens too often that only when some really serious misfortune befalls us that we take measures to address a concern that should have been dealt with long before. Such was the case, which precipitated the genesis of the Virginia Graeme Baker Pool and Spa Safety Act in 2008 on December 19. This act sought to address an issue surrounding the safety of swimming pool drains and drain covers.

The issue of safety as it relates to swimming pool/spa suction entrapment, and by extension swimming pool drains and drain covers, did not arise overnight, and investigations were being conducted from as far back as the 1970's. Those investigations were said to have been carried out at the time by the Consumer Product Safety Commission. The tipping point came, it seems, when the granddaughter of former Secretary of State James Baker III, drowned after being trapped under water by the powerful suction from a hot tub drain. This happened in June of 2002 and Graeme, as she was called, was seven at the time.

In the past when swimming pools were installed, although people knew pool drains and drain covers had implications for the safety of swimmers; their importance was not given the prominence they deserved. Subsequent to December 19, 2008 however, Federal law now requires that every pool/spa drain manufactured or sold after that date meet certain specific standards. In addition to this every public spa and pool must be retro fitted with drain covers that meet these same standards. Also, every public pool and spa having a single drain other than an unblockable drain must employ one or more Safety Vacuum Release Device (SVRS) device. There are three main types of SVRS, mechanical devices, electro-mechanical devices, and motors or pumps that utilize built-in software.

How a pool safety drain cover works is by preventing the powerful suction of the pool or spa drain from forming a complete seal, which could trap an individual's body against the drain. It will also prevent the entangling of hair. Both of these could result in drowning. As one can imagine had this piece of legislation not come into being we might still be seeing unnecessary swimming pool deaths, the root cause being drains and drain covers.

Thankfully the measures to prevent possible loss of life caused by drains and drain covers do not just stop there. For pools and spas the cover of drains need to be inspected on a regular basis to see if they are missing or loose. If they are missing or found to be loose immediate steps should be taken to correct this adhering to the guidelines of the Virginia Graeme Baker Pool and Spa Safety Act. Another helpful measure is to ensure that a certified pool professional is employed when installing new pool and spa drain covers. It is also a good idea to have children with long hair wear a swim cap in the pool or spa to prevent their hair getting entangled in the drain. And of course it is advised to have children in pools or spas supervised at all times.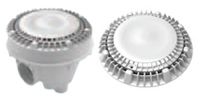 Pool drains and faulty covers pose dangers to young children and adults. Learn how anti-entrapment drain covers reduce the risk of suction accidents.
OPEN 6 DAYS A WEEK
Phone Support (Central Time)
6am - 6pm Monday - Saturday