NOTICE
: The Texas weather emergency has caused nationwide stock-outs on most products. This includes complete goods and especially parts and plumbing supplies. There are long shipping delays on the few products we do have in stock. Please contact us (
Live Chat
is the quickest response) to ask about availability. Phone calls are being answered as fast as we can so please keep trying,
Live Chat
us or send an email.
FX products are manufactured in Southern California where they comply with the world's toughest environmental, labor and workplace safety regulations. They are proof positive that an American company can still compete very successfully with foreign made brands. FX Luminaire wins the game with superior quality, delivery and support.

Incorporated into the design is the LevelX® feature. The LevelX® assures the lighting installer that the faceplates of these permanently mounted fixtures will remain perfectly level upon completion of the installation. Many step and wall lights on the market today are designed so that if the mounting box is installed out-of-level, the faceplate, once installed, will also be noticeably out-of-level.

Perfection Every Time
The Patent Pending LevelX® system allows the composite sleeve to be up to 3 ⁄ 8" out of level, in either direction, while still allowing the faceplate to be laser level!

The secret: The trim attaches to the adjustable reflector assembly – not the composite sleeve or body. Heavy foam gasket keeps light spill to a minimum.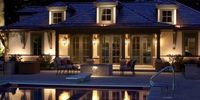 Landscape lighting is among the necessary accessories when swimming pools are concerned. They effectively contribute to a safer swimming environment. Plus they enhance the appearance of the area around your pool and patio.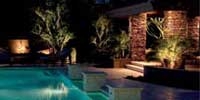 Looking for a way to show off to your pool setup? A top-notch lighting arrangement could be the perfect way to make your backyard the envy of the whole neighborhood.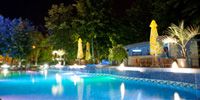 Swimming pool lights are absolutely necessary at night to illuminate dangerous edges and the walls inside the swimming area. Learn the best ways to use pool and landscape lighting to enhance the safety and ambiance of your pool and patio.