NOTICE
: The Texas weather emergency has caused a wide range of stock-outs on most all products. This includes complete goods and especially parts and plumbing supplies. There are long shipping delays on the products we do have in stock. Please contact us (
Live Chat
is quickest response) to ask about availability.
Electrolytic mineral ion systems, such as copper-silver ionization, are a proven, effective, non-chemical method to help control bacteria, algae and viruses. Advantages include improved water quality, effective algae and bacteria control, improved sanitation, reduced chemical usage, automated operation and an environmentally friendly method of water sanitation.
How it Works: This is a very basic explanation of how copper and silver work. Both have some algaecidal and bactericidal properties. Copper has the ability to pierce the protective outer membrane of a cell and disrupt enzyme balance, as well as allowing other bactericides and algaecides access to the susceptible parts of the organism.

Silver is effective because of its capabilities of interfering with DNA production and accelerating the death phase. Although lethal to bacteria and algae, this process is completely safe to humans. A multitude of scientific tests have been done showing the effectiveness of copper-silver ion systems in different areas including swimming pool and spa applications.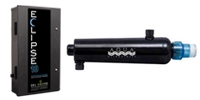 Both Ozone and UV systems are more natural, environmentally friendly alternatives to chemicals and their resulting bi-products. They are effective, safe and reliable methods of water sanitation. But what is the difference between Ozone and UV? And how do you know which one to choose when shopping for an alternative sanitizer?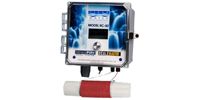 Problem algae spots eliminated, lower chlorine use and sparkling clear pools with less work are all great reasons to invest in a mineral sanitizer today!