The Flo-Master XP2 outperform any other 48 frame pumps. With a shut-off head of more than traditional 48 frame pumps, they are perfect for all types of spas. Enjoy the same performance as if it was a 56 frame pumps!
Easily customizable to fit your needs:
Discharge can be oriented on 4 positions
Many options for the drain plug
Choice of wet-end colors
Many type of power cables available
Various compression fitting configurations
Open drip proof
cULus or cURus certified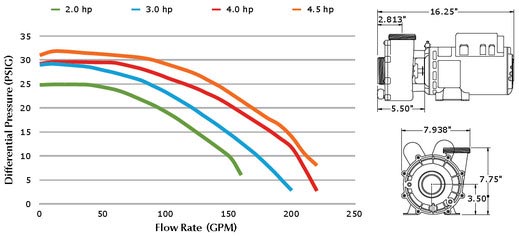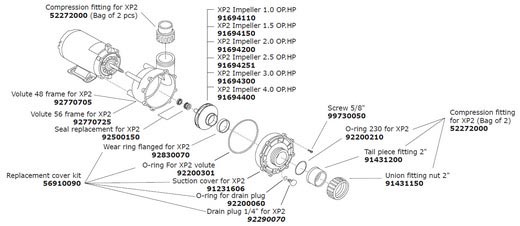 OP.HP REFERS TO OPERATIONAL HORSE POWER
If you have an older XP2 pump and the label only has the HP rating and not the OP.HP rating then the new style will be by the OP.HP.
If you have both a HP rating and an OP.HP rating on the label then the new style is the same.
XP2 pumps are 48 frame motors only now however, in the past there were some 56 frame motors used. These are replacement wet ends that have been used by the manufacturer.