Control IntelliTouch Automation System from iPad, iPhone, iPod touch and Introducing the New ScreenLogic Interface for Android Devices.
Now you can control the key functions of your pool and spa using the IntelliTouch and EasyTouch control systems. The revolutionary ScreenLogic series of interfaces enable operation of IntelliTouch and EasyTouch Automation Systems through a combination of multi-functional controllers, including an in-wall touch screen, iPad®, iPhone®, iPod touch® mobile digital device, PCs, MACs and now Android devices!
The new Pentair ScreenLogic Mobile app gives IntelliTouch systems with ScreenLogic interfaces WiFi access through an iPad, iPhone, iPod touch or Android. Controlling pool and spa operations couldn't be easier...or more convenient. Once the software is installed, you can control everything from pool and spa temperatures, jets, lighting, water features, remote video monitoring, and more...right from phone or device. Imagine being able to:
Easily turn on spa and adjust the desired temperature on the way home from work.
Control all circuits (waterfalls, pool lights, fountains, and more) and review history of temperature, pool/spa, heater, and light operation.
Remotely view live video on up to 4 video cames. *
The new software is available free. Just browse the Apple App Store in iTunes and type in the search term "ScreenLogic" to quickly find.

For new IntelliTouch purchasers, the easiest and most cost-effective way to add control access via iPhone and iPod touch is to purchase a ScreenLogic PC interface kit (Part # 520500).

Includes a Protocol Interface adapter that connects to existing Desktop or Laptop PC. This allows control of IntelliTouch pool/spa systems via PC (requires a Pentium4 PC with Ethernet connection and Windows XP operating system).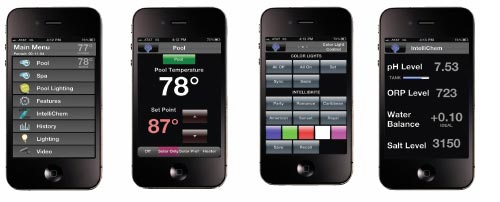 ScreenLogic Interface for Android devices features include:
Compatible with devices using Android 2.1 through 4.2 platform, the ScreenLogic Interface for Android device app allows you to control pool functions from anywhere. Simply download the free software from the Google Play Store™.
Control all key functions of your pool or spa - temperatures, jets, lighting, and water features.
Easily track and monitor history for air and water temperatures as well as pool, spa, heater, solar, and lights.
ScreenLogic for Android device app allows full color lighting control for both IntelliBrite® LED Pool/Spa/ Landscape Lights and MagicStream® Laminars.
Use of the ScreenLogic for Android device application requires new protocol adapter firmware. Pentair Aquatic Systems encourages all users to update their protocol adapter firmware to the latest version 713.
This update is available at www.pentairpool.com home page, then click on the Update ScreenLogic image located on the bottom right.