NOTICE
: The Texas weather emergency in February in addition to the ongoing demand increase for pool products from the Covid pandemic have caused industry-wide shortages with products. We're allowing items to be purchased so that customers who choose to wait will have their order shipped when product arrives. Many times there are long shipping delays on the few products we do have in stock. Please contact us to ask about availability.
Live Chat
and email are the best. Please keep trying back via chat and email as we can't answer them as fast as they come in but we are here, so keep trying! We're currently 7+ days behind on returning email (email is the best way to get a reply when all chat associates are busy).
There is an IntelliTouch system for every application pool, spa, pool and spa combinations and pools with separate spas. With the ability to control from five to forty functions, total backyard automation is achieveable.

A basic IntelliTouch system involves just three key elements:

1) The Enclosure Kit installed at your equipment pad that contains all the electrical circuitry. Choose between a Load Center with SubPanel (room for breakers) or basic Power Center with no breakers.
2) One of the "Personality Kits" you select based on whether you want to control a separate pool or spa, a pool/spa combination with shared equipment, or a pool/spa combination with separate equipment. Your personality kit determines the type and number of equipment and accessories you will control.
3) Finally choose your Interface Kit. Select from an indoor wall-mounted unit (520138), MobileTouch wireless controller (520906), the ScreenLogic Digital Tablet (520502), In-wall Touch Screen (520502), Pocket PC (520501), or Standard PC (520500) interfaces.


IntelliTouch® automation offers superior control systems from small to the most ambitious pool and spa designs including water features and spectacular lighting effects. All available from Pool Supply Unlimited. IntelliTouch automation systems offer innovative technology and a wide range of wireless and wired control panels that are very easy to program with simple menus to enable pool owners to create and change programs without complication. Users can choose the Wi-Fi enabled Tablet. , the compact Personal Digital Assistance (PDA) or the Mobile Touch® wireless (900MHz) control panel to complete your pool and spa automation system.

IntelliTouch offers advanced control technology to suite individual needs including:
ScreenLogic® User Interfaces - Enables IntelliTouch users to control their pool and spa features using wireless color touch screen devices including PDA and Tablets. ScreenLogic systems now have advanced features such as remote monitoring and control over the Internet and email alerts for specific events. Other wired interface options are also available to control pool and spa features via a desktop or laptop PC from within the home or on the road.
Salt Chlorine Feature - Enables IntelliTouch users to control and monitor popular Salt Chlorine Generators including IntelliChlor®, Goldline® and AutoPilot® from the IntelliTouch Indoor Control Panel or MobileTouch® wireless control panel. Users do not have to adjust the salt chlorine generator at the equipment pad.
Support for Intelliflo® - IntelliFlo® is the intelligent swimming pool pump that is changing all the rules. Adaptable to any application up to 160 gallons per minute, you simply program Intelliflo's speed to suit the application. IntelliFlo then dials in the perfect power factor. IntelliFlo constantly monitors water flow and electrical current, making sure that the filtration system is operating at peak efficiency. And that means energy savings never before possible - up to 90% over conventional pumps.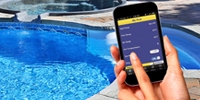 Ready to make the jump to automating your setup? In this two-part series we examine the advantages of automation, consider the options available and help you decide what system is perfect for your needs.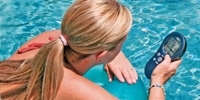 Not sure which pool and spa automation system is best for you? We take a closer look at some of the top options on the market to let you decide for yourself which option makes the most sense.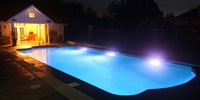 During the 1980s and early 2000s fiber optic lighting was installed in thousands of pools nationwide. Over time those fiber optics have faded and the industry has moved to a superior technology - brighter, more efficient LED lighting. Learn how to update your fading fiber optic lighting to vibrant LED lighting.