SR Smith Transformers & Lighting Controls
The new poolLUX™ family are transformer equipped controls (no additional power source needed – its already built-in!) that require no programming, provide basic on/off operation and offer wireless control with advanced features including color tuning and dimming options. The entire family of S.R.Smith lights (TREO, kelo, micro, Fiberglass and Color Light Stream products) are multi-mode which means they work seamlessly with any S.R.Smith control to reproduce basic to advanced lighting features.

poolLUX™ Premier is the top of the line and capable of producing 49 colors and four distinct dimming levels via the included wireless remote in addition to the standard six basic color options and two color light shows. Premier works exclusively with S.R.Smith LED Lights.

poolLUX™ Power is an ETL listed power center for lighting that comes in 60W or 100W configurations and has an external on/off switch which can help save on electrician costs (no extra on/off switch to wire).

poolLUX™ Plus builds on the Power system by adding a wireless control system. Plus is available in 60W or 100W configurations.

poolLUX™ Plus2 provides multi-zone power and wireless lighting control in one simple system. Control up to 2 zones of lighting — independent or synchronized operation, Wireless remote control with one-touch color sync for S.R.Smith LED lighting products. 120W system — 60W per zone.

WIRTRAN is a simple, easy to install 12VAC power center operated by the included handheld wireless remote. It is a low cost solution for any 12VAC, low-wattage (up to 30 watts) product that is single switch operated. WIRTRAN is great for existing or new pool construction and has a manual override switch inside the control box enclosure.

The PT-6001 and PT-6002 both include 12VAC and 13VAC output options. Available as single 60W, 1-circuit unit (PT-6001) or dual 60W, 2-circuit unit (PT-6002) with sync or independent circuit control. The new and improved Fiber to LED conversion kits seamlessly replace aging illuminators (including Fiberstars 6004/2004), converting fading fiber optic lighting to vibrant LED lighting. You can use an existing S.R.Smith (formerly Fiberstars) fiber optic illuminator base for installation.

Wireless Pool Controller (WPC1 / WPC2) are 1 or 2 transformer power centers. WPC1 and WPC2 can be operated by the included wireless remote and features a three position (On, Off, Auto) 24-hour time clock for pump control; along with two additional circuits for wireless lighting switching. There is a manual override switch on each light circuit. It is a low-cost solution for any 12VAC 30W or 120VAC 8 amp remote control system.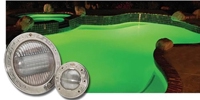 There is a wide variety of color LED lights to choose from and you've likely driven yourself mad wondering which one would work best for your application. Luckily the answer is not as difficult as you think. Read more for an easy explanation of the LED colors lights available to you.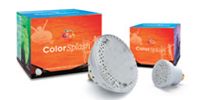 Looking for new or replacement lights for you pool or spa? Learn about the benefits of vibrant, energy efficient, environmentally friendly LED pool and spa lighting options.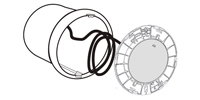 With summer fast approaching, now's the time to get your backyard in shape for neighborhood parties. If you're ready to update your pool lighting, check out our easy 12 step guide to changing pool and spa light bulbs.
OPEN 6 DAYS A WEEK
Phone Support (Central Time)
6am - 6pm Monday - Saturday