Dolphin robotic pool cleaners are incredibly energy efficient. In fact, it costs about 5 cents an hour to operate your Dolphin! That's 15 cents to clean your entire pool with a typical 3 hour cycle. What's more, your Dolphin is completely independent of your pool's pump and filter, enabling you to clean your pool using a fraction of the energy required by other types of cleaning systems. You don't even need to have your pump and filter running while the Dolphin cleans!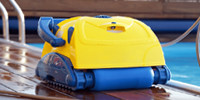 Automatic Pool Cleaners are a great way to clean a swimming pool and reduce long-term maintenance costs. Get the details on the different kinds of Automatic Pool Cleaners, and which one will suit you and your pool's needs.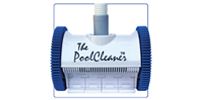 Tiered of your old pool cleaner that gets stuck and just doesn't thoroughly clean your pool? Want something easy to use with very little maintenance? Poolvergnuegen's The Pool Cleaner is the right one for you.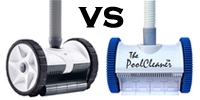 Looking for a new cleaner to get that messy pool under control? We look at two notable suction-side options: Poolvergnuegen's PoolCleaner and the new Kreepy Krauly Warrior, and let you draw your own conclusions.