The IntelliFloXF variable speed pump packs more money-saving innovations into a single pump than any other.
Compared to traditional single-speed pumps, it can reduce your annual utility bill by up to $1,600*.
The difference is a breakthrough by Pentair: XF pump hydraulics. They've redesigned interior passageways and parts for smoother, more efficient operation. The IntelliFloXF pump uses less energy to deliver the flow your pool requires.
These operating hydraulic improvements are paired with
Pentair IntelliFlo
Variable Speed Pump technology, a proven design that has led the revolution in pool pump efficiency. Together, these innovations give you the most advanced, smoothest-running, and most energy-efficient pump we've ever made. It's part of our Eco Select Brand line of products, one of "greenest" and most efficient equipment choices.
ENERGY STAR Certified: meets strict energy efficiency criteria set by the U.S. Environmental Protection Agency and the U.S. Department of Energy.
Typical savings of up to $1,600* each year, compared to traditional pumps.
More Intuitive interface makes programming and operation simple.
Control keypad can be rotated for convenient orientation on the pump.
More accessible wiring compartment helps make setup fast and simple.
8 programmable speed settings and 24-hr clock for scheduling assure optimum speed and run times.
Unions are included for connecting directly to 2.5" or 3" plumbing.
TEFC design keeps motor shielded from the elements.
Internal hydraulic isolator separates priming water from pump water, smoothing the internal water flow for faster priming and greater efficiency.
Compatible with IntelliTouch, EasyTouch, and SunTouch Automation and other brands of digital pool/spa controls. When paired with an IntelliTouch or EasyTouch automation system and the ScreenLogic interface, the IntelliFloXF pump can be controlled from an iPad, iPhone, or iPod touch mobile digital device, anywhere, anytime.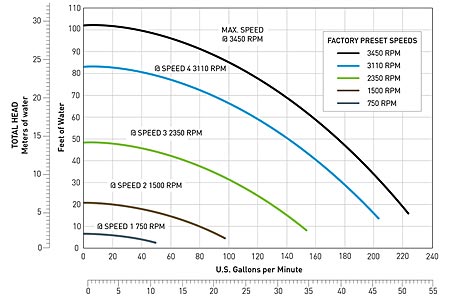 Powerful and Economical
The IntelliFloXF variable speed pump gives you the power to operate large residential and feature-rich pools with waterfalls, slides, negative edges or other water features. And, its remarkable variable speed cuts energy use dramatically.
Easier to Operate
We've upgraded the pump interface so it's more intuitive and easier to use than ever. The display can be rotated for convenient orientation on the pump. Or, it can be placed nearby with an optional wall mount kit.
Automation Ready
This pump is ready to help you step up to the convenience and freedom of pool automation. It interfaces perfectly with IntelliTouch, EasyTouch and SunTouch Control Systems to deliver just the right flow for filtration, water features, spas and other equipment.
* Savings based on variable speed pump compared to single-speed pump running 12 hours per day at an average of $0.16 kWh in a 20,000 gallon pool. Actual savings may vary based on local utility rates, pool size, pump run time, pump horsepower, pump rpm, plumbing size and length, pump model, service factor and other hydraulic factors.